What is the Bommer Customer Portal?
The Bommer Customer Portal (powered by Chargebee) is a secure portal that allows you to manage your subscription information. You can use the customer portal to view and update your payment information, add or remove users from your subscription, change the term of your subscription, view past invoices, view payment history, and other subscription related tasks.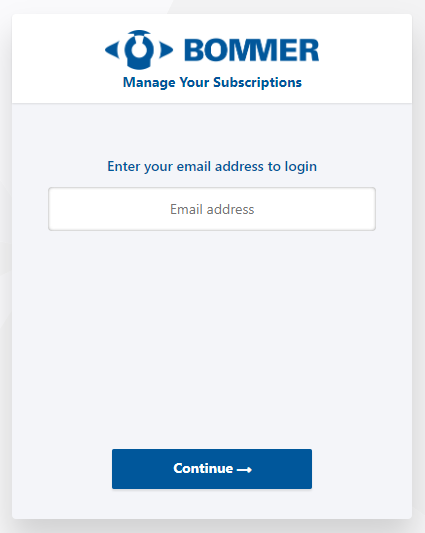 What is Chargebee?
Chargebee is a subscription management service that Bommer uses to securely handle subscription billing and payment processing. If you would like to read more about Chargebee and what they do you can click
here
.
How do I create an account for the Bommer Customer Portal?
If you click
here
you can access the Bommer Chargebee portal. From there, click on "New user? Get your signup link here" line near the bottom of the page; that will ask you for the email address you used when subscribing to the Bommer service. After entering your email address, Chargebee will send you an email with instructions on how to complete the signup process.
What can I control from the Bommer Customer Portal?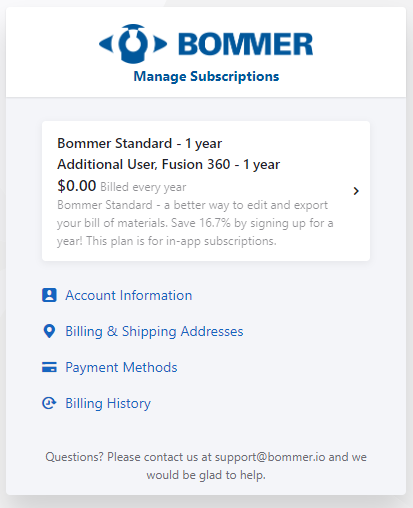 From the main menu you can see and edit:
Account Info: Here you can see your basic account info such as first name, last name, company, email, and phone number. Keeping this data accurate and up to date is important for our records in case we need to you.
Payment Method Information: This is the credit card used to pay for the Bommer subscription. You can use this box to change/update your card on file.
Billing Information: This is your billing information and address.
Payment History: History of payments made to Bommer. From here, you can see a record of when you were charged as well as download PDFs of you invoices.
Subscription: From here you can manage your subscription to Bommer. You can see the next time they will be charged, what subscription plan you are on, any other users on your subscription plan, and any coupons applied. From here, you can add or change you subscription model (see below for more info).
Timeline: This shows important information such as when you signed up, when the subscription was activated, what your current billing period is, and when the next billing will occur.
How do I add additional users to my Bommer subscription?
From the subscription box, you can manage the terms of your own subscription as well as add additional users to it to keep multiple accounts of Bommer on a single invoice. This process is fairly simple: once you log in to your Bommer portal of Chargebee scroll down to the Subscription box and click on the Manage link, then click Change subscription. This can be seen below.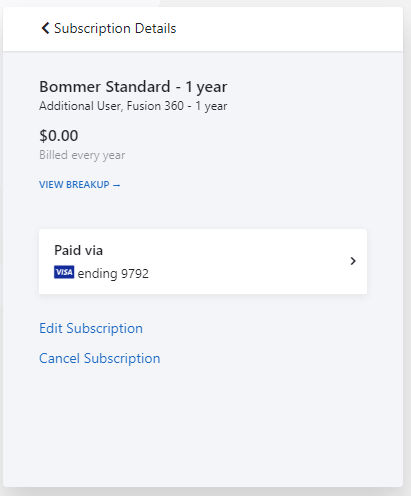 From there it is as simple as following the prompts presented.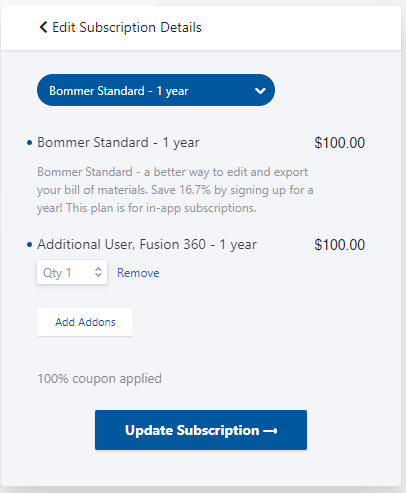 First, you have the option to review or change your subscription plan; for example, you can change from a monthly plan to a yearly plan. Once you select or confirm your plan, you move on to Add/Remove Addons where you can add additional monthly or yearly licenses to their account. This is how you manage multiple seats on the same billing account. The last step is to review and confirm your updates.

You will receive a confirmation email shortly after making any changes to their subscriptions.

If you have any additional questions please do not hesitate to contact us by clicking the Talk To Us button at the bottom of this page, or email us at support@bommer.io!