You can use the Settings dialog to back up your Bommer settings or create a settings file to share with your team, to ensure all team members are working with the same property configuration.
Exporting
To export (i.e. backup) your settings, use the Export Settings button in the Settings window. It will ask you to pick a folder and file, and then save a .bps file with all of the settings (properties, views, import formats, etc) you have on your Bommer system.

Importing
To load these settings into a new system (or to restore your previously exported settings), click the Import Settings button, select the .bps file to import, and press Open. Press Ok on the command to save the imported settings.
DISCLAIMER: Once you import a .bps file this cannot be undone, the import will change your properties and then save those changes. It is recommended that you back up your existing settings (via Export Settings) before importing new settings, so you can always revert back if needed.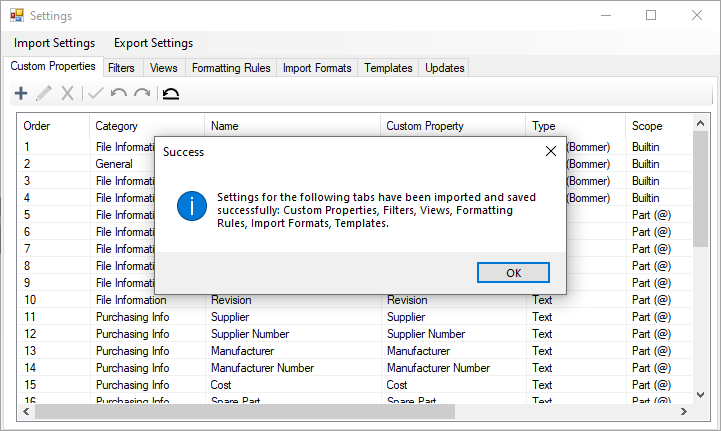 What about my templates?
When you export your settings, this includes your carefully crafted templates. However for the sake of file size, or if your team shares a template in a common space, we give you the option to just export the file paths to your templates. This way the template itself will not be included in the .bps file, instead a path to where the template is located will be included.
However if this is not important to you or your organization, just select No when this prompt appears and the templates themselves will be included.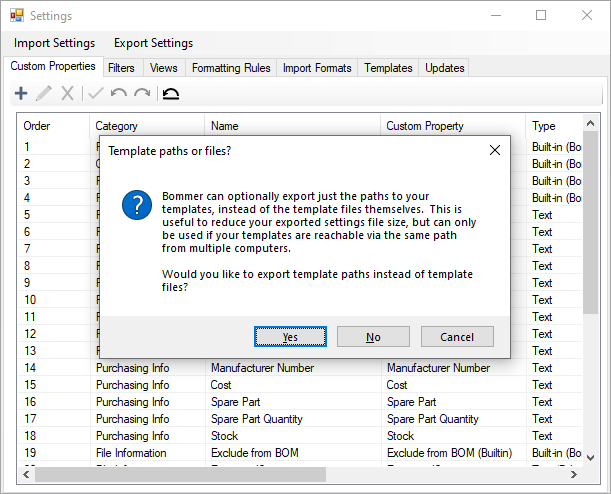 How do I reset my settings back to default?
Do you need a to reset Bommer back to its default settings? We have made that process simple as well.
When you open settings, in each of the tabs you will see this back arrow with a line button.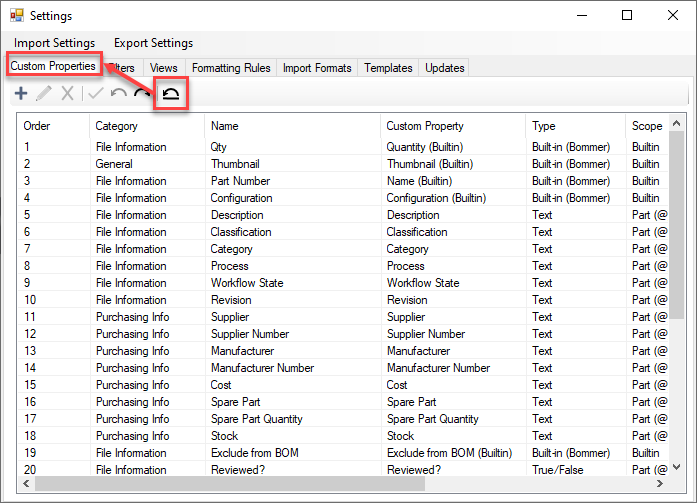 This will reset that particular tab to the Bommer default settings. After you press this button you will have to press the green checkmark to confirm the changes.
If you have pressed this button by mistake, you can also undo it by pressing the Undo button.
Do keep in mind that this will only revert that tab to default settings. So if you want to revert both Custom Properties and Views, you would also have to go to Views and run the same process again.