The part info form lets you view and edit properties for one part, including linked/cross-referenced components, in a simple form. Using this command, you can view, edit, and inspect the metadata (defined in Bommer Settings, click
here
to learn more) for a selected assembly or part. In some cases, some setup may be required to edit linked components from your top-level design; in these cases, Bommer provides a way to quickly perform this setup so you can make short work of your BOM.
Overview of the Edit part properties form
To open this form, select the part to edit in the tree and then click on
"Edit part info..." command in the Bommer pane. You can also click on the icon, then select a part in the tree. Similar to the BOM edit table, this form is organized into tabs that correspond with the property categories. Each form will have edit boxes for text properties, radio buttons or a dropdown box for multiple-choice properties, numerical fields for "number" or "decimal" properties, non-editable text for read-only properties, or checkboxes for true/false properties.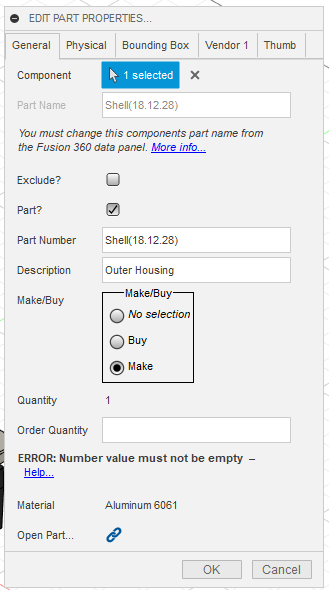 Does your screen look different? You may be running an older version of Bommer. See Upgrading Bommer for more info on how to upgrade Bommer.
Formulas
When editing a formula in this command, the space underneath the input will contain the computed value, or an error if the formula resulted in an error. This area will be automatically shown or hidden, depending on if there is a formula in the input box. For more information about writing formulas in Bommer, please see the Formulas and calculated fields guide.
Editing linked components
When editing a linked part, there will be additional buttons at the bottom of the form. The first button, "Open part...", will look like
and when pressed will open the referenced design within Fusion 360. The second button, "Enable editing..." will only appear if the part is not set up for editing from a referencing assembly (click here for more info about editing linked components). When visible, the button will look like

and when pressed, Bommer will set up the linked document that holds the selected part or assembly. Note that this will result in a new version of that document within Fusion 360; it's the only way to make changes that persist to a document within Fusion.