In order to make sure the data in your export is as accurate as possible, Bommer will automatically evaluate all formulas for items included in the bill of materials export; this evaluation may vary based on settings selected in the export form. Here are some things to note about exporting with formulas.
Evaluation results are not saved
The formula evaluation performed as part of an export will only be used for that export. If you want to evaluate all formulas to save the results back to your design, see this guide: [LINK: Evaluate all formulas command guide]
Quantities, item numbers, and other properties that vary per BOM type
There are some fields in Bommer that can vary based on the BOM type: Quantity, Item number, and other similar fields are computed based on how the components are grouped and organized in the BOM (which is determined by BOM type). Because of this, if you use these properties in a formula, that value can change when the formula is evaluated as part of the export.
Selected properties
Like before, you can select the properties you want in your exported bill of materials. If you select a property that contains a formula that references a property you did not select, Bommer will automatically process that data to ensure it can compute the formula; this "silent" property will not show up in the export.
Errors in formulas
If Bommer encounters an error in a formula when exporting a bill of materials for export, it will display a warning: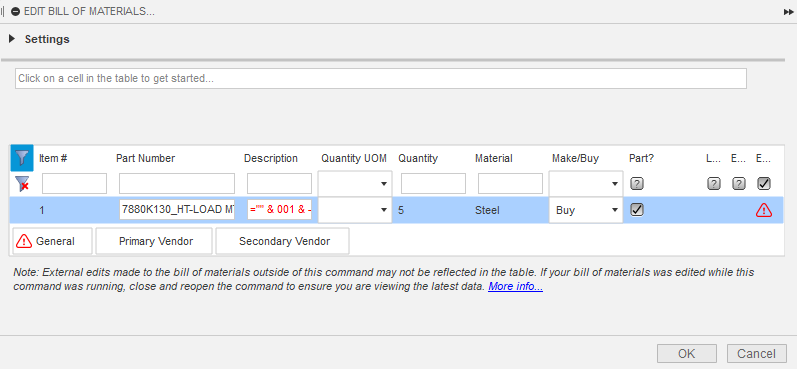 You can press Yes to open the

"Edit bill of materials…" command, filtered to show only rows with errors, to quickly find and fix the problem formulas.
Pressing No will continue with the export, which may include error text in the cells for which there is an error.