So you like what you see and want to become a full fledged subscriber of Bommer? Awesome! We are ecstatic to have you join. This guide will cover the basics of how to sign up for Bommer, what options you have during the subscription process, and contains links to guides on how to generate codes to connect users to your subscription.
Finding the subscription form
If you click on the Bommer dropdown (in this case, it is using an account that has registered) you should see a button that says Click here to subscribe. If you are registered it will also say how many days you have left in your trial; if you are just starting out, and have not filed out a registration form, it may say something different.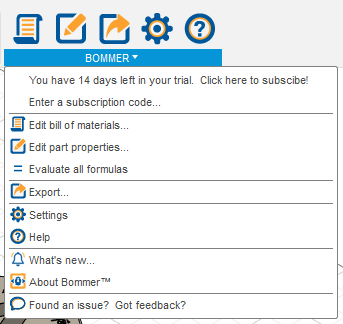 Note: if you have a subscription code, you can click Enter a subscription code to add yourself to another subscription. Click here to learn more.
What is the process?
Once you click the button this menu will appear presenting some information as well as some options.
This will include:
Your subscription term: This defines whether you sign up for Bommer on a month to month basis or a yearly basis, as well as including the price for each.
Add additional seats: This defines the number of additional seats you would want to purchase. This allows for multiple users to be on the same subscription instead of having everyone manage their own. When you sign up for Bommer you get your seat, so if it is just you then this would be 0. However if you have additional team members you would like to sign up then you would set this to 1 or however many.
The Subscribe button: This will confirm your selection and move you on to the next part of the process.
Open checkout page in browser: This option allows you to finish the subscription process outside of Fusion 360. This is useful in cases where your payment information may already be stored in the browser.
Copy checkout link to clipboard: Generate and copy a checkout page link to your clipboard. This is useful if you need to send a link to your purchaser to complete the purchase.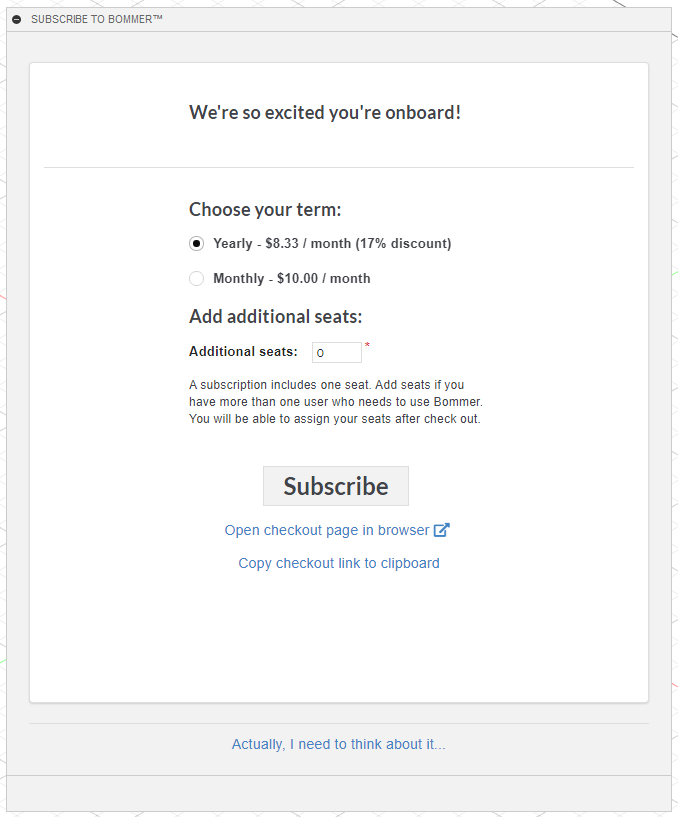 Note that the link copied by clicking "Copy checkout link to clipboard" is different than the link that is opened when you click Open checkout page in browser. That link is part of a workflow where checkout is expected to be completed at that moment, and shouldn't be held for long periods of time. The link copied to your clipboard can, however, be sent in an email and completed asynchronously (though you will need to restart Bommer once it is to load the new license information).
Checkout
Once you have selected your desired term, the number of additional seats you would like, and press Subscribe or Open checkout page in browser, you will see a confirmation of your pending subscription and prompts to Proceed to Checkout.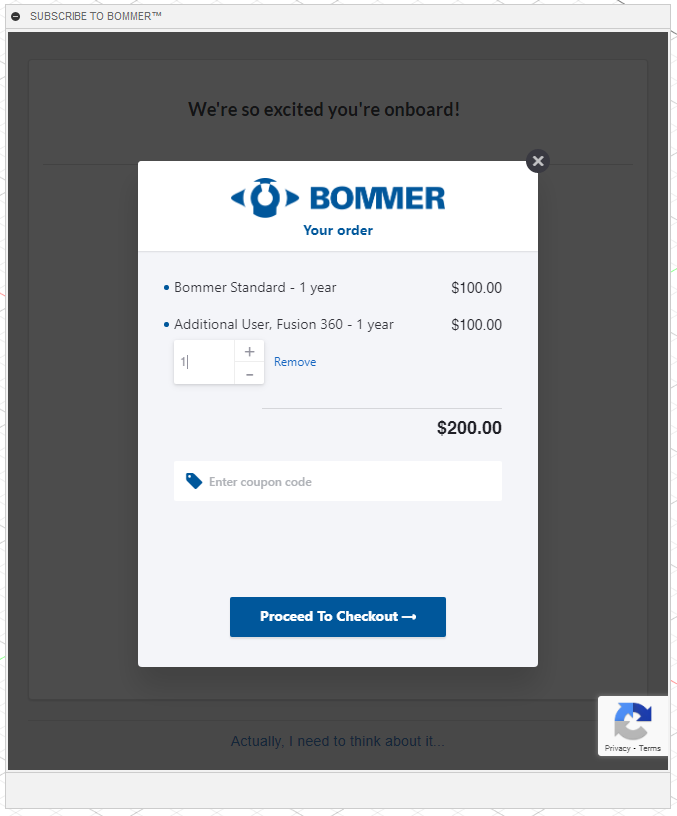 When you click Proceed To Checkout you will be prompted for some information including address and credit card information, the usual online checkout process. Please keep in mind that the email address used during checkout will also be the email address used to access your account (e.g. to modify payment info, download invoices, etc). It does not need to be the email address of the subscribing user.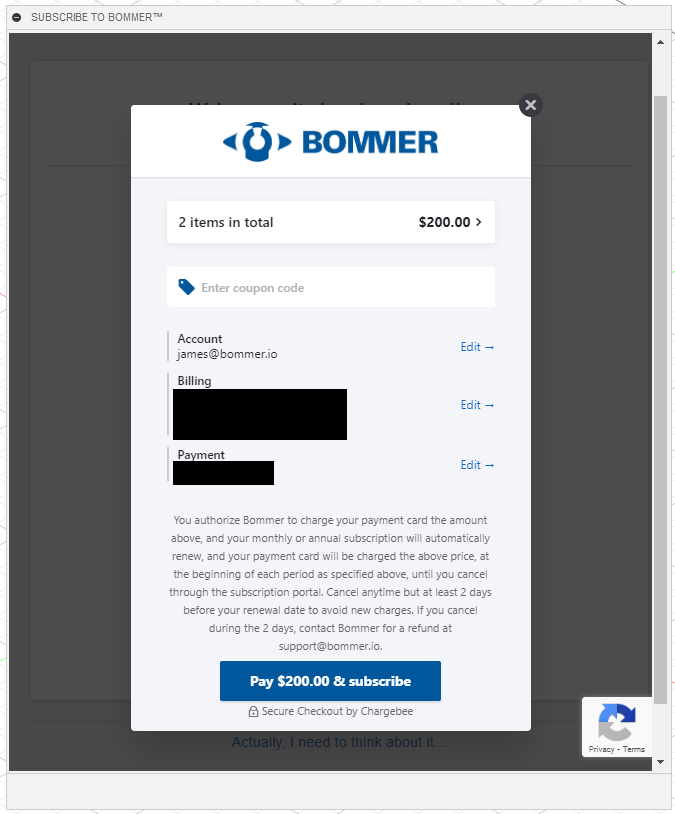 Once all of that is done, you get this final confirmation screen and you should be all set! Double check that all your information is correct, confirm the payment, and you are good to go!
What's next?
If you added additional users to your account, you will be redirected to a form to generate codes those users can use to add themselves to your subscription. This process is essentially the same as if you are generating codes for new additional users, so please see here this guide for more information.
Additionally, there will be a couple new menu items in the Bommer dropdown menu: Add users to your subscription (for adding new users to your account, as mentioned in the previous paragraph), and Access your account (which you can read about here).
As always, if you have any questions or concerns you can also reach out to us at support@bommer.io and we would be happy to help!