Bommer allows you to add additional users by generating and distributing subscription codes. These are one time use codes that once redeemed will automatically consume a seat on your subscription, or expand your subscription if no seats are available. These can be useful for teams that are expanding their usage of Bommer or in case you forgot to add that one co-worker to the subscription and is feeling really left out.
Before anything else:
Are you trying to redeem a subscription code?
This may be the wrong article for you. Fret not, we have an article on redeeming codes right here.
Are you here because you just subscribed with multiple users?
Great! Thank you for signing up! The good news is the process is more or less the same as described here; the biggest difference is we will pre-populate the table with a row for each additional seat you added. Also, some of the button text may be different but it works the same.
An important note about codes and subscription charges
It is important to note that subscription code redemption can cost you money. When a code is generated, it is associated with your Bommer account and subscription. Once that code is redeemed, it will add the redeeming user to your subscription and, if you do not have any available seats on your account, add a seat and invoice/charge your account. Please treat your generated codes carefully; if you lose control of your codes, or if you want to revoke a subscription code, please contact us at support@bommer.io.
Generating subscription codes
If you are the primary account holder, you can generate subscription codes for your team members. Open the Bommer drop down and navigate to Add users to your subscription.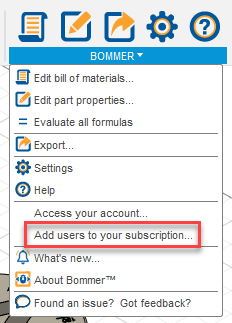 The Add users to your subscription form
Once clicked, you should see the following form: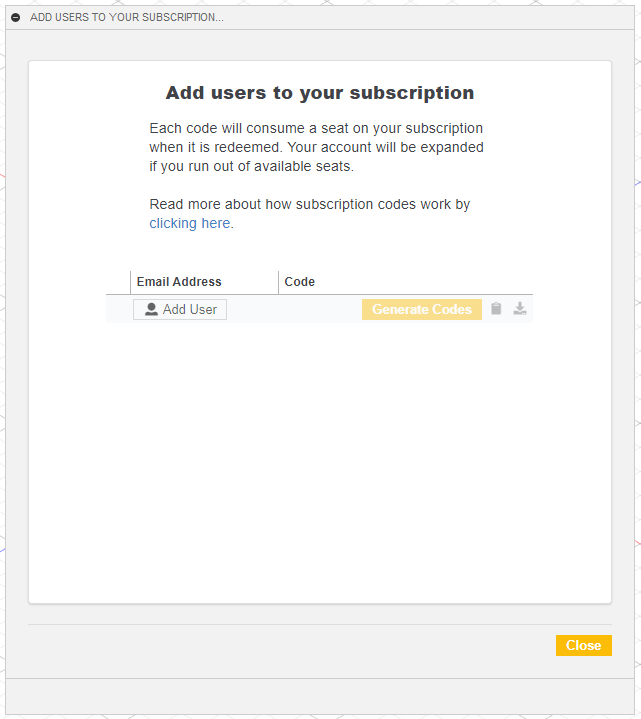 This form contains a table for adding users and retrieving the generated codes. Once codes are generated, you can also copy the table (in comma-separated values format) to your clipboard or download a .csv file.
To get started, press Add User to add a row to the table, or if Bommer created rows for you, find the first empty email address box.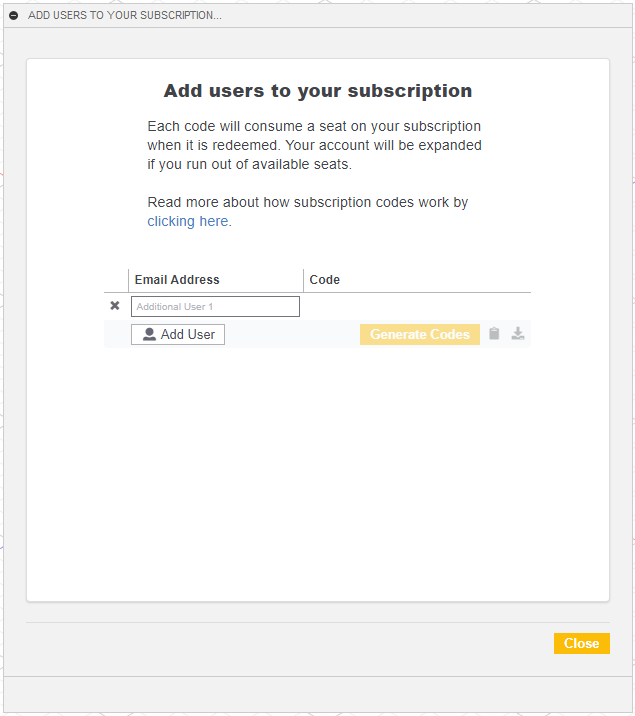 This will add a field where you can add the email of the user you are trying to add. Add as many users are you would like at any given time. Do note however that if any of the email fields are blank then the Generate Codes button will remain unclickable. Once it becomes clickable (i.e. once every row has a valid email address), click Generate Codes to generate your codes.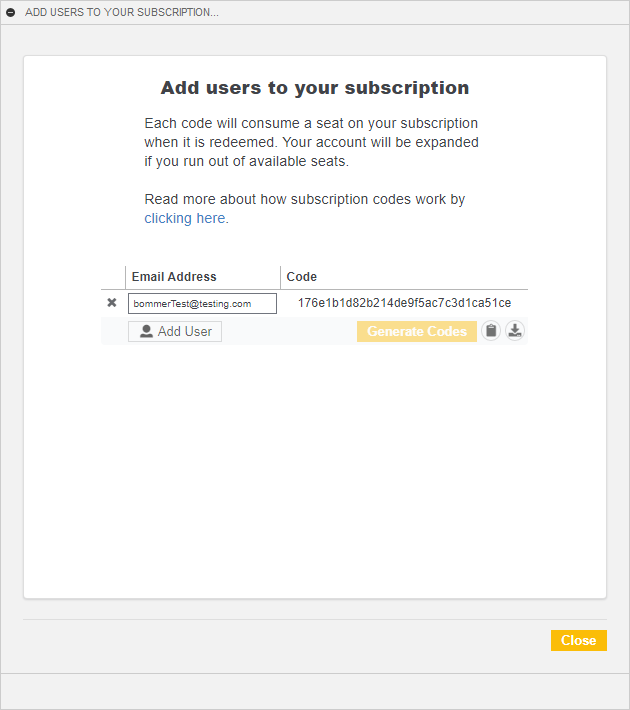 Once we have all the new users added in then you have some additional options. You can select the individual codes in the table and copy them to your clipboard; you can press the clipboard icon to copy all of the codes and emails (in a comma-separated format) to your clipboard, or you can download the codes in a CSV file. Please note that once you close this form, you will be unable to retrieve these codes so store them safely!
Sending codes
Each user's code can then be sent to them in an email, slack message, or however you exchange messages. After the user installs Bommer and accepts the terms and conditions, they will be able to redeem the code via a Bommer menu item. Feel free to send them the How to Redeem Code guide along with the code to help get them started.
Expiration
Codes will expire 30 days after they are generated, to prevent an old code from generating an unexpected charge on your account. If a code expires before it is redeemed, no worries; you can generate new codes at any time.
That is it for generating additional subscription codes, if you have any questions or concerns about any part of this process then please do not hesitate to reach out to support@bommer.io and we would be happy to help!