(For a full guide on this please check out our importing and exporting settings guide)
Does your team already use Bommer? A team administrator or team member can give a .bps configuration file that contains all of their configured settings for Bommer, so you can get set up and working with the team's standard configuration in no time. This .bps file contains custom properties, views, filters, templates, and other settings that your team has configured within Bommer.
Importing a .bps file
Start by pressing the gear icon for Settings, then press on Import Settings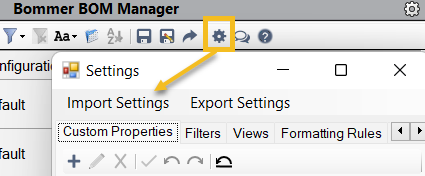 From there just navigate to the .bps file that you have received, and follow the onscreen prompts. This will overwrite all of your Bommer settings to match those within the file, so if you have any local customizations you may want to press Export Settings to create an export of your configuration before proceeding.
More information on both importing and exporting settings can be found in the linked guide above.