Bommer keeps a local copy of your bill of materials edits, to support editing linked components, and to let you review the edits that are un-saved for the current version of your design.
As a reminder, "un-saved" refers to edits to native components for which the design is not saved, or edits to linked components that have not been pushed. Click
here
to read how to save your data.
To review your edits, click on the "Review Edits" command in the Bommer drop-down pane.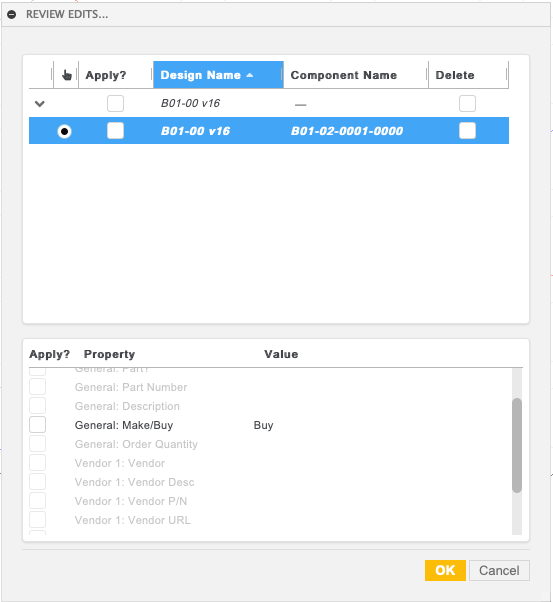 Using this command, you can view edits by design and component, revert edits to one or more components, or perform the edits again against the current version of that design or component. This latter is necessary for working with edits to linked components that were made to an older version of that component.
For example, let's say you have unsaved edits on a component, and a colleague saves a new revision of that part without your edits in it. You want to pull in their changes, but you also want to preserve your bill of materials edits that have not yet been pushed to the linked component. Once you use Fusion 360 to update the reference to the latest version, when you look at your bill of materials, you won't see your BOM edits that were made to the previous version of the part. This is fixable by using the Review Edits command to perform those edits again to the new version of the component.
To apply edits to the latest version of a component:
Find the part that has edits you want to promote in the top table. This table contains all available changesets for to review; a changeset is a collection of edits made to a component at a specific version, and this dialog will collect all of the changesets for linked parts in the open assembly.
Find the edit (or edits) you wish to promote in the bottom table. This table lists all of the individual edits in the changeset. You can apply the whole changeset by clicking the appropriate checkbox in the top table.
Press OK to apply the selected edits (as if you made the edits again through Edit bill of materials).
To delete edits before saving them, find the component that has edits you want to delete in the top table and check the Delete checkbox before pressing OK. Please be aware that applying edits is undoable but deleting edits is not, so delete carefully.