Since version 1.7, Bommer has supported distributing updates through an in-app update mechanism. This guide explains how to
How do I know what version of Bommer I am on?
To see what version of Bommer you are on, open the Bommer drop-down menu in Fusion 360 and click the About Bommer button. You will then see this pop-up: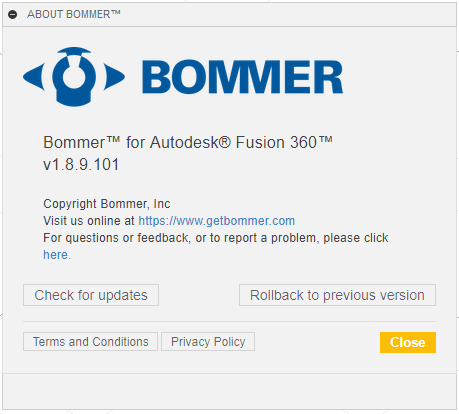 This screen also provides some useful buttons for updating and reverting updates; these will be described in more detail below.
Updating via in-app updates
When you start Bommer (either through Add-Ins or by starting Fusion) and an update is available, a new icon

will appear in the Bommer panel next to the

Edit bill of materials... icon.
When that icon appears, you can click it to see the available update information. This screen will show you what version you are on, what version is available, and the release notes for that version and any other versions that were released between your current version and the new version.

When you finish reviewing the new changes, click OK to perform the update.
This pop up will appear informing you that Bommer has started its download and update. We recommend hitting the ok button and then letting the installer finish its job. It may seem like nothing is happening but trust us, Bommer is working its magic.
Once completed this prompt will appear asking you to restart Bommer and congratulations you are on the latest version of Bommer! If you need help restarting Bommer, check out our guide
here
!
Updating or reinstalling from the app store installer
There are times when you may need to upgrade or reinstall from the app store installer. This is required if you are currently running version 1.6 or earlier; this also may be required if we release large changes to the app that cannot be deployed using the in-app update mechanism. To upgrade or reinstall from the app store installer, go to the Fusion 360 app store and download the latest version of Bommer. Once you download this file, run it to go through the installer. You will get to this pop-up, on Windows, or a similar pop up on Mac:
From here click the Install Now button and then Bommer will patch itself to the newest version. After this process is complete you will see this pop up appear;
Once you see this click the close button and restart Bommer or Fusion 360. Bommer should be upgraded to the latest version!
My upgrade failed, what now?
First, we apologize for this inconvenience. As much as we strive for excellence and making sure nothing crashes sometimes accidents do happen.

There are two scenarios that may happen here. Either Bommer will detect that there has been an issue during install and automatically roll back to the previous working version you were on. If this happens, please notify us of this and we will work on fixing it as soon as possible.

The other scenario is a complete failure to install. At this point, you can re-install from the app store installer (as described above). If that still fails, please contact us and we will help troubleshoot.
Rolling back to the previous version of Bommer
This applies if you are on Version 1.7 or later. If for whatever reason you are not satisfied with the latest version of Bommer you are on, you can roll back to the previous version of Bommer you had installed. Open the About Bommer tab in the Bommer dropdown.
Once there click the Rollback to previous version button.
Once this is successful you will see the following pop up! Once again just
restart Bommer
to have the changes take effect and you are all set.
What if my rollback failed?
If your Bommer rollback fails, your best action is to install from the app store installer; while this may not get you back to the specific version you wanted, it will get you to a stable version of Bommer. Also, please let us know what happened, and why you wanted to roll back. We do our best to ensure each version of Bommer works great for all of our users and will work hard to resolve any issues you have.